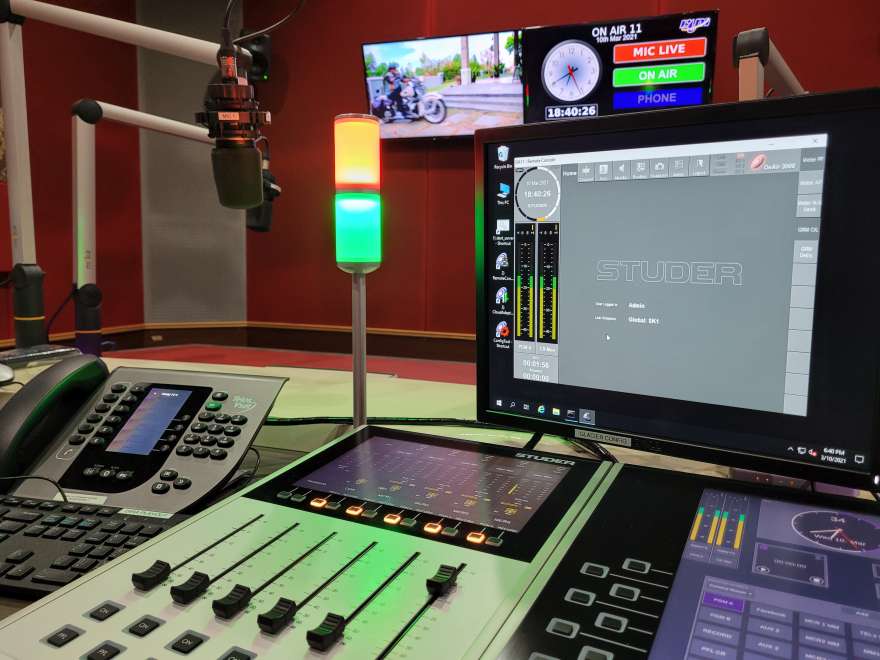 RTM installs Densitron IDS
MALAYSIA: 
Radio Televisyen Malaysia (RTM) has installed an Intelligent Display System (IDS) from Densitron for its broadcast facilities in Kuala Lumpur.
Densitron IDS, a vendor-agnostic control and display layer, integrates with and controls all critical media infrastructure products such as playout, automation, scheduling, building management and AV systems. The UI allows users from any level to deliver multiple complex applications at the touch of a button. The install at RTM includes displays, display drivers, servers, I/O interfaces, table lamps, touchscreens, and wall lamps. It was specified and completed by local systems integrator, Mahajak Trio Electronics, is comprised of 135 IDS devices located throughout RTM's TV and radio studios and control rooms, edit suites, and public spaces.
"IDS provides RTM with exceptional visibility of what's happening in all active and inactive areas," explained Reuben Such, global business director at Densitron IDS. "It not only delivers RTM with crucial live information, but it monitors multiple aspects of system health and alerts users to any event that may require attention. It's highly satisfying that RTM has already found IDS so beneficial that it's exploring even more ways to use it."
RTM presented Mahajak Trio Electronics with a must-have list for its display and control needs. In addition to 43 IDS large format displays, IDS touch panel controls were also required for the broadcaster's primary control rooms to display mic live, on air, and indicate if a telephone is connected or ringing. Screen design layouts, branding logos, and backgrounds can be switched and updated via an easy-to-use web interface. Scrolling and prioritised text messages can be shared with all displays or specific groups on the system for a predetermined amount of time. Each studio that uses IDS can access reference-quality pip tones from the Greenwich Time Signal. "The flexibility and detail IDS provides for RTM at its visual fingertips is remarkable," said Lee Chin Kah, senior project manager at Mahajak.
RTM's system also gives an overview camera display outside each studio, allowing activity to be observed without disruption. It offers visibility of all security cameras if required, while the control room touchscreens also allow interaction between studios.
"RTM is already making additional plans to develop and deploy new aspects of the IDS technology to suit its evolving needs," Lee continued. "One of the many benefits of IDS is that it's so easy to configure it to do precisely what is required, wherever it's needed."
www.proavl-asia.com/details/67857-rtm-installs-densitron-ids
RTM installs Densitron IDS